Pediatrician doctor examining child. Mother holding baby in her hands.[/caption]As a parent, you play an integral part in your child's sleep study. Many factors in ensuring we get thorough and accurate test results are determined before your child even arrives at our clinic. Following these procedures will help us get a more complete picture of your child's sleep troubles. If you have any questions, please call (405) 949-0060.
Please note that minors must have a parent or guardian with them during throughout all testing, including overnight stays.
It is also important to call the center if you or your child are experiencing the following symptoms the day of a scheduled test: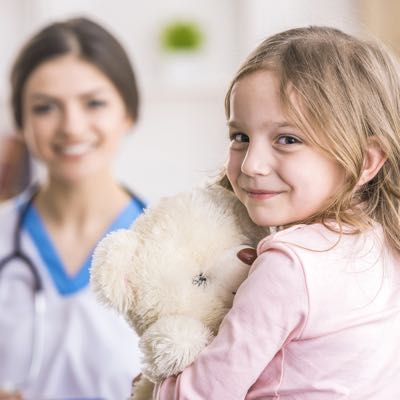 Cold or flu symptoms
Diarrhea
Fever
Severe nasal congestion
Migraine headache
Locating Our Sleep Clinic
Summit Medical Center
1800 S. Renaissance Boulevard,
Edmond, Oklahoma 73013
Our facility is located on the second floor. Our front desk hours are 8:00 AM to 5:00 PM, Monday through Friday.
Before Arrival
Avoid letting your child nap or drink caffeine the day of testing. Remember that most sodas and teas, including iced tea, contain caffeine.
Make sure you have a complete list of your child's medications.
Administer medications as usual unless the doctor tells you otherwise.
Remember to pack everything you and your child will need for an overnight stay. We have pillows, but you are welcome to bring your own.
Make sure your child is bathed and has clean hair. Avoid using hair products or excessive amounts of lotion.
We encourage you to bring small items from home, like photos, that will help your child feel more comfortable in his or her testing room.
Arrival
Make sure that you arrive on time. If you are going to be more than 15 minutes late, please call ahead to ensure your spot isn't given to another patient.
Bring your completed questionnaire, your child's insurance card and a form of ID.
Smoking is prohibited on the premises. Make sure you finish smoking before you come inside for your child's testing. Firearms are also prohibited on the premises.
Your child will have the chance to spend some time in his or her testing room and get comfortable before testing begins. While we have games, books and toys, you are welcome to bring your child's favorites from home.